UW-Madison prepares for possibility of COVID-19 coronavirus …
UW-Madison prepares for possibility of COVID-19 coronavirus outbreak, dusts off pandemic plan
A group of students listens during a lecture on UW-Madison's campus in 2018.


AMBER ARNOLD, STATE JOURNAL ARCHIVES


UW-Madison is bracing for potential disruptions to its day-to-day operations as the number of confirmed coronavirus cases continues to grow worldwide.
"We have no idea quite what may be coming, if anything," Chancellor Rebecca Blank said at a Faculty Senate meeting Monday.
Officials are dusting off a "campus pandemic plan" put together 10 years ago when the H1N1 virus became a worldwide concern, she said. The plan is being reviewed and updated to prepare for the possibility of coronavirus spreading to campus.
University Health Services director Jake Baggott is coordinating UW-Madison's response in conjunction with local, state and federal agencies.
The worldwide death count climbed to nearly 3,100 Monday and the number of confirmed cases increased to more than 90,000, though 80,000 of those have been reported in mainland China where the outbreak began.
State health officials said Monday that there has been one confirmed Wisconsin case of COVID-19, the disease caused by the new coronavirus. Eighteen people have tested negative for the virus and two cases remain under investigation.
Blank encouraged faculty members to consider what meetings, instruction and testing could be delivered online in case physical classrooms close.
"We have a group here working on the question (that) if folks cannot get into the classes, either teachers or students, what could we do online to complete the semester?" she said. "We'll be distributing that type of information should it be needed."
University officials have also heard from some students reporting discrimination based on their ethnicity that is related to others' coronavirus fears, Blank said.
"Targeting any ethnic group in the absence of other information is illegal and we will act on reports of discrimination or harassment," Blank said. "We are all in this together."
UW-Madison suspended university-sponsored study abroad in China, South Korea and Italy this semester, affecting a total of 182 students. A number of those programs offer distance learning, where students enroll in courses online.
"We're going to be having a Florence in Madison program here over the semester," Blank quipped. "We'll see how that goes."
The university is advising affected students return home for a 14-day, self-imposed quarantine before considering coming to campus, Blank said. Officials are also monitoring other study-abroad locations, including Japan.
Sign up now to get the most recent coronavirus headlines and other important local and national news sent to your email inbox daily.
As the new coronavirus outbreak continues to grow, mostly in China, state and campus experts in Madison are preparing for possible cases while cautioning against alarm.
More light snow is possible overnight for the area, but high temperatures will remain in the 40s, rising to the 50s over the weekend, according to forecasters.
Wisconsin officials aren't ruling out declaring a public health emergency down the road to direct more state funding to local health departments for costs related to quarantining and isolation if the disease, known as COVID-19, caused by the virus becomes more widespread.
This decision is unprecedented for Wisconsin's largest university and taken to slow the spread of COVID-19 coronavirus.
Students frantically rearranged plans for the next month after UW-Madison asked those living on-campus to leave and announced suspension of face-to-face classes. "They're kicking us out," one freshman said.
The employee recently traveled to a country with widespread transmission of the coronavirus and is currently isolated at home.
Information on commencement will be shared in the near future, Chancellor Rebecca Blank said.
UW-Madison Housing officials say it is just a hypothetical at this point. Other universities across the U.S. are discussing the idea as COVID-19 cases rise.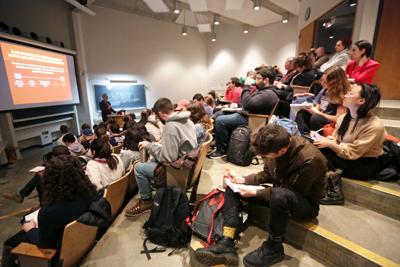 A group of students listens during a lecture on UW-Madison's campus in 2018.
All copyrights for this article are reserved to Corona Virus